SUPERAntiSpyware Professional Review
It's been around two years since I have been into this computer security business. When someone came up to me and asked whether SUPERAntiSpyware was a good spyware blocker, I was clueless. Truthfully, SUPERAntiSpyware was a spyware removal tool which I hardly heard of. There were a few mentions here and there but other than that, SUPERAntiSpyware was not something which will immediately zap into my mind the moment someone says 'spyware'. However, when I was given the opportunity to test out SUPERAntiSpyware Professional, I was amazed (honestly). Design-wise, SUPERAntiSpyware does not exactly have a professional look but its performance puts this spyware blocker in the top bracket. Read on to find out more about SUPERAntiSpyware Professional.
The installation file did not take too long to download (6.5 megabytes). The installation process is also straight forward. It was good to see that there were no sponsors installation included in the installation wizard (I came across a few programs which misled users into downloading third party applications like ASK Toolbar). As soon as I finished installing SUPERAntiSpyware Professional, a prompt appeared which asked me whether I wanted to have the latest Spyware Definition update. It then proceeded to a wizard which went through various features such as Automatic updates and diagnostic reports.
Verdict so far: SUPERAntiSpyware has done well so far by ensuring users are notified about their automatic spyware definition update feature (make sure it is turned on). However, I feel they can improve their setup wizard in the future by possibly including a computer optimizing feature. For example, if SUPERAntispyware is installed on a slow computer then the optimization wizard can then ensure that SUPERAntispyware takes less CPU processing power, despite a longer scanning time.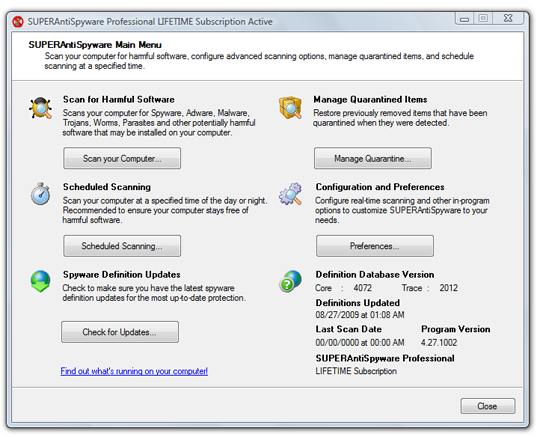 As you can see from the image above, the overall design of SUPERAntiSpyware is nothing explicit. The main menu contains simple buttons with descriptions. Each section of SUPERAntiSpyware Professional is well detailed so users with limited experiences in using spyware removal programs should not have to worry much about navigating their way through. However, the preference section is slightly overwhelming as there are lot of check boxes and descriptions to read through. Beginners will have problems going through these preferences.
Verdict so far: I like how SUPERAntiSpyware Professional is concise and simple, rather than going for the professional-look approach by filling the program with all these explicit color gradients. However, the preference section could do with some work as many users won't understand terms like 'Kernel Direct Access'.
One disadvantage of SUPERAntiSpyware is its scanning speed. As you can see from the image above, it took around 1 minute 19 seconds to scan around 1000 items (this was on a 4gb RAM, 2.25 Ghz laptop with no background tasks). You will find plenty of spyware blockers which go two or three times as fast but there is a good reason why you should be patient. SUPERAntiSpyware managed to detect most of the spyware which I intentionally installed on the laptop (90%+ detection rate). Many users from CNET also posted successful results after using SUPERAntiSpyware.
Verdict so far: SUPERAntiSpyware's impressive detection rate definitely puts this spyware removal tool in the top bracket. The scan may be as slow as a snail but the time is worth investing in. The average CPU it used up was around 27%. This means that you may not be able to run some full screen applications like video games when a scan is taking place. Not patient enough? Think of it this way. The cost of getting infected by a spyware outweighs the cost of removing it before it does any damage to your computer.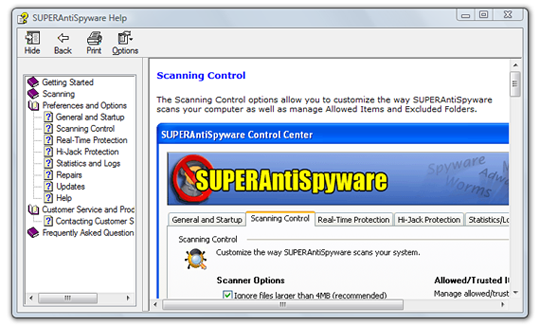 The documentation which came with SUPERAntiSpyware was well detailed. As you can see from the image above, the documentation also comes with images to facilitate the understanding process. They also have a FAQ page on their website to answer any common questions regarding SUPERAntiSpyware. You are also given the option to submit a customer support request on their contact page or through their official forum.
Verdict so far: Their support system is adequate but nothing great. It would be great if they included some support icons within the program design because some users are not aware that pressing 'F1′ on the keyboard will open the support documentation. At the moment, users have to go through the preference section to access support.
After a few tinkering, I do not hesitate in recommending you SUPERAntiSpyware Professional. They also have a free edition available but I recommend you get the Professional version as it comes with Real Time Protection (very important feature). You also get a 30 day unconditional 100% money back guarantee if you are not satisfied for whatever reason. Click here to purchase your SUPERAntiSpyware for $29.95 (add only $9.95 for a lifetime subscription).